Would you like to see yourself in a new light? Treat yourself to a makeover photoshoot - it's an afternoon of pampering and unforgettable memories.
Whether you want to spoil yourself for your birthday (or another occasion) or you simply want to feel (and look) gorgeous, a glamour makeover portrait is perfect for you. You can be the star of the photoshoot or have your partner or girlfriends take part for an afternoon of pampering – the choice is yours.
Your makeover portrait experience
Your makeover portrait experience is so much more than a mere photoshoot! It's a glamour portrait experience designed especially for you, to make you shine. It's an afternoon of pampering, of fun and, of course, of beautiful photos in my Tullins studio.
Your experience starts with the pre-shoot consultation where I meet with you to find out what you're looking for, show you the studio wardrobe and accessories and, of course, answer any questions you may have. My goal is to bring out the best in you and the consultation is an important step in the preparation of your portrait session.
On the day of the makeover photoshoot, the pampering starts with a professional makeup artist and hairdresser applying your makeup and styling your hair. Once you're looking gorgeous, we move onto the glamour portrait session. The session takes approximately 90 minutes and you will be photographed in several outfits.
After the shoot, why not finish the day in style by going out with your partner or friends for the evening.
Studio gowns and accessories
The studio has a range of evening gowns and cocktail dresses you can choose from for your glamour portrait. Dress sizes range from size 36 (XS) to 46 (XL). You can choose to bring your own outfits or wear the studio gowns. All of the studio dresses worn during a portrait session are washed afterwards.
The studio also has a range of jewellery and other accessories available for use in the makeover photoshoot.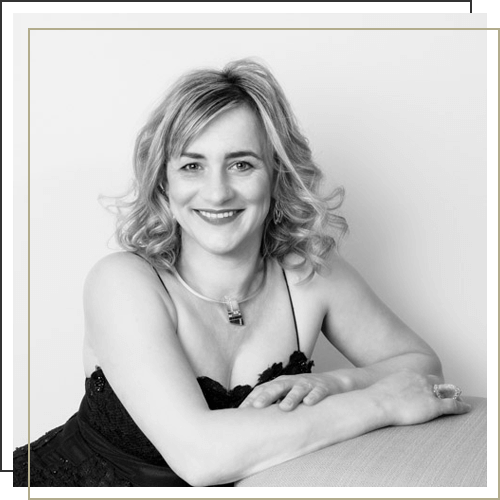 Investment
Your makeover portrait session is much more than a simple photoshoot. Portrait photography requires a great deal of skill, time and creativity.
Gorgeous glamour portraits don't happen by accident! Your portrait session is carefully designed to reflect your personal style, a professional makeup artist and hairdresser makes you look amazing, your portrait photographer poses you expertly and your photos are individually and skilfully retouched before final delivery.
Makeover Portrait Session – 249€
Consultation:

Your makeover portrait experience starts with a consultation, in my Tullins photo studio. During the appointment we will talk about what you're looking for from your makeover photoshoot. I'm also there to answer any questions you may have.

Portrait session:

Your 90-minute portrait session takes place in my Tullins photo studio.

Photo viewing and ordering session:

This is your private screening of the gorgeous portraits from your session. The photos will be presented on a big screen and this is your opportunity to order your favourite photos from the session. You can also choose to see what your photos will look like on your own walls, giving you the confidence that the artwork you choose will look amazing in your home.

One 15 x 21cm portrait:

You will receive one beautifully presented portrait (valued at 50€) as a present for booking with me.
Want to make it a girls afternoon?
Contact me for a group rate if you would like to invite your girlfriends to take part in your makeover glamour portrait session with you.
Want to know more about your portrait experience?
Please visit my portrait experience page to discover each step of your portrait experience and to discover more about how I work.
Makeover and Glamour portfolio
Visit my portfolio to see makeover and glamour portraits.
Suivez-moi sur les réseaux sociaux!
Abonnez-vous